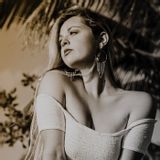 Madison D
Mixed media artist creating relatable timeless imagery.
Photographer in Orlando, Florida
I am an artist who can easily and efficiently grasp new concepts, retain new things and assimilate them into newly created works of art for both the commercial and fine arts arena. I am responsive to social norms and social injustices negatively affecting an individual's self-image, and by experimenting with shameful language, photographs of obsessive behaviors including addiction my work can often communicate through illustration on the difficult topics. By using light and color, working with mixed-materials, comparing portraitures, rubbing image transfers and brush marks my art preserves people's true and outward identity while shedding light on these insecurities and abashed behaviors. My art gives viewers new perspective on topics and in areas that are otherwise too difficult to discuss.
Share This Profile
Find Photographer in Orlando, Florida