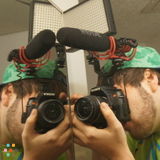 Michael B
Need a Photographer? I'm your guy.
Photographer in Phoenix, Arizona
Are you in need of some family photos? Do you need head shots or modeling photos taken? Are you needing a cameraman to shoot your music video (minimal video editing experience, prices reflect that. Quality will never lack, it may just take longer than expected as if I want to do something I don't know how to yet, I'll need a day to learn how to do it.) Do you need photographs of Real Estate you are trying to sell or rent? Then LOOK NO FURTHER!!!!! My name is Michael. I am an "amateur" photographer and videographer (cameraman) and I'd be happy to be of assistance. I am available day and night really anytime is fine, I can work around your schedule. I have been doing photography for years, I started capturing photos on some of the first Android devices. After that I moved on to DSLR cameras. My camera shoots in FULL HD 1080p, 16.2 MP sensor output, meaning it shoots very HIGH QUALITY pictures and videos. Equipment I use: Sony Alpha 580 DSLR Camera Sony Telephoto Zoom Lens f4 - f5.6 / 55mm - 200mm Sony Stock Lens f3.5 - f5.6 / 18mm - 55mm Sigma Macro Lens f1.6 - f5.6 / 70mm - 300mm [Pro]Master LED Light [Pro]Master Shoulder Mount/Steady Cam 6' Tripod Rode Shotgun Microphone with 2 step High Pass Filter and Rycote shock mount If you'd like some samples of my work, please contact me and we will arrange something for you. I am working on getting a website up and running that will contain my entire photography portfolio. I'd be happy to send you plenty of photos and videos I've done as samples. Pricing: Hmmmm...... Let's play this by ear. I WILL NOT OVER CHARGE YOU EVER!!!!!! In fact, I will be under charging you (as far as I can tell compared to others online) as I need this to help build my portfolio and I am new to the game so pricing isn't something I am familiar with. I will be researching other Photographer and Videographer prices and I WILL beat their prices. I will not charge by the hour like most Photographers and Videographers, I will charge by the job with stipulations. More detail will be provided upon inquiry. Thank you for your time. Michael Brown South Western Digital Productions 6o2-487-E227 **ALL PHOTOS on this page are property of PortlandMike with South Western Digital Productions. I do not give anyone authority to use these images, or copy these images.
Share This Profile
Find Photographer in Phoenix, Arizona